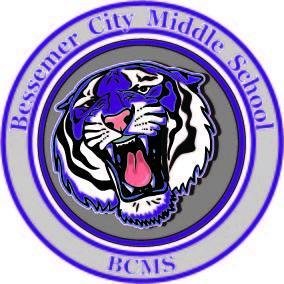 Bessemer City Middle school formally James A. Davis Middle School is the only public accredited middle school in Bessemer, Alabama. We transitioned to the old Jess Lanier High School building during the 2013-2014 school year, during this time Bessemer City Middle established The 6th Grade Academy. Our school now services grades 6th-8th offering a variety of academic and extra-curricular programs.

Our school motto is: "A Student Today and a Leader Tomorrow"
Bessemer City Middle School's Mission is to produce and develop responsible and diverse individuals who will contribute positively to society.
Bessemer City Middle School is departmentalized according to subject areas. There are advanced classes in each of the five academic areas.

Scheduling is designed to meet the needs of the middle school aged child. Currently, we have a six period daily schedule with a homeroom connected to our first period.

The safety of all students and school personnel is a priority. Bessemer City adheres to local board policies in an effort to maintain a safe, orderly, and drug-free environment. Procedures are in place for the enforcement of conduct and dress codes outlined in the Bessemer City Middle School's Handbook.
Administrative and Teacher Profile
The staff of Bessemer City Middle School consists of three administrators, thirty-five teachers, two counselors, one media specialist, one school resource officer, one school nurse, six instructional support aides, two secretaries, six cafeteria employees, and three custodians. Over forty-seven percent of our teachers have advanced degrees in education. Professional Development and continued education is a priority for our staff. Many teachers are involved in post-graduate work at local universities. Staff members participate in numerous professional development activities on the local, state, and national level.