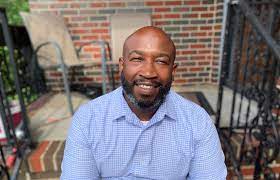 Van James
Principal
205.432.3601
Mr. Van James has been an educator in the Birmingham area for 20 years. He prides himself on creating an inclusive, supportive environment for staff and students alike and is beloved for his daily fist bumps and kind words to everyone he meets. Mr. James is grateful for the opportunity to work in the community that he loves and cannot wait to see what the 2021-2022 school year brings.
Mr. James began his teaching career at Abrams Elementary School where he worked as a fourth grade teacher before joining Bessemer Middle School in 2012. He then transitioned into the role of Assistant Principal at Jonesboro Elementary School before coming home to BCMS.
Van graduated from Alabama A&M with a Bachelor of Science (B.S), Elementary Education and teaching and completed a Master of Education (M.Ed.), Instructional Leadership with the University of Alabama at Birmingham.
#BCMS

Good morning, Bessemer City Middle School Students and Parents,

First, let me say I hope each of you are safe and healthy. I know these are difficult times, but the faculty and staff are working diligently to educate each student. If you have a concern or an issue, contact the teacher first. After you have contacted the teacher, please feel free to contact an administrator.

Expect announcements, school creed, mission statement and project wisdom posts on this page. Please remember to check the school's Facebook page. Stay safe and healthy.
Mr. Van James
Principal
Current Projects and Initiatives